Portland SummerFest's Opera in the Park presents annual free operatic performances at the beautiful outdoor Washington Park Amphitheater in southwest Portland. The performance at Washington Park has been presented since 2003 as part of Portland Parks and Recreation's annual Washington Park Summer Festival.
Audiences of all ages and backgrounds come to Washington Park to enjoy this unique contribution to the cultural life of Portland. Presented in concert format with full orchestra and lively narration, these concerts have introduced thousands of Portlanders to the world of opera and been avidly attended by a growing number of loyal fans.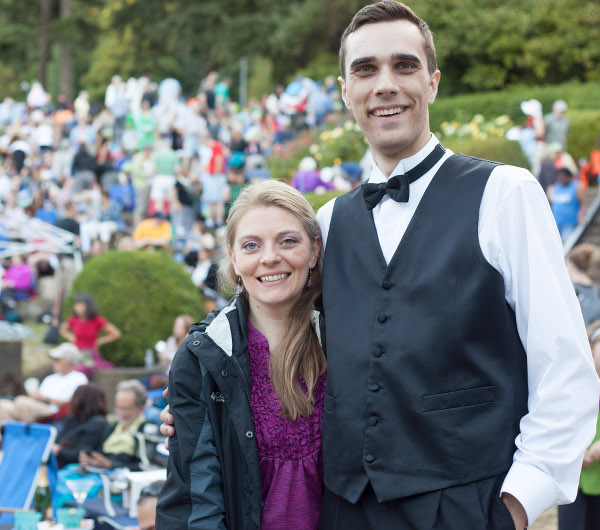 Keith Clark

Artistic Director & Conductor
Keith Clark is Principal Guest Conductor of the Siberian Chamber Orchestra in Omsk, Russia, Conductor of the Amadeus Opera Ensemble in Salzburg, and Founding Conductor Laureate of thePacific Symphony in Southern California. He is Founding Music Director & Conductor of the Astoria Music Festival, which recently completed its ninth season of presenting opera, orchestra, and chamber music at the historic Liberty Theater in Astoria. He is featured on over thirty recordings with the London Philharmonic, Vienna Chamber Orchestra, Slovak State Philharmonic, Les Concerts du Monde Baroque Orchestra, Czech Radio Symphony Orchestra, Korean Symphony Orchestra, and the Pacific Symphony Orchestra. His CD's have received Grammy nominations, "Record of the Year" and "Classical Hall of Fame" awards, and Billboard Bestseller listings. He founded Southern California's Pacific Symphony Orchestra and built it into the nation's fastest growing professional orchestra, bringing it to international attention through recordings, broadcasts, and appearances on BBC and American television.
Board of Directors
Jocelyn Bates O'Brien, President
Sharon Buckmaster, V. President
Darlyn Jablonski, V. President
Leonore Licht-Miller, V. President
Cameron Vaughan-Tyler, V. President
MaryAlice Helikson, Recording Secretary
Margaret Wallis, Treasurer
Advisory Board
Ingrid Arnett
Steve Bachelder
Ruth Dobson
Kris Kern
Scott Wyse
Your support helps bring world-class opera to Portland every year free-of-charge.
Please help keep this wonderful Portland tradition alive by supporting us on a level that's right for you.